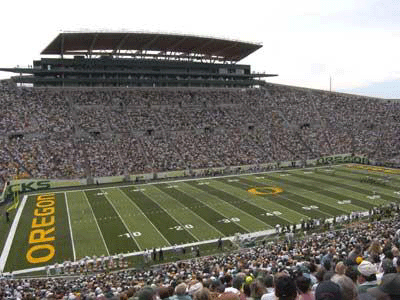 I just got back from Eugene. What a wild game! I am exhausted. The crowd was very loud and I did my part. I told my friend with the Ducks down by two touchdowns & 2 minutes to go that the Ducks would win the game with a touchdown an onside kick and a second touchdown in two minutes and they did!
Dennis Dixon and No. 18 Oregon rallied for
two touchdowns in the final 72 seconds and the Ducks blocked a field goal on the final play to seal a wild 34-33 victory over No. 15 Oklahoma on Saturday.
Dixon's 16-yard keeper with 1:12 left brought the Ducks within 33-27 and set up the onside kick attempt.
The Ducks (3-0) recovered the kick on their own 48, with 1:02 to go.
After a pass interference call on Oklahoma again had Sooners coach Bob Stoops shaking his head on the sideline, Dixon threw a 23-yard TD pass to Brian Paysinger with 46 seconds to give Oregon the lead.
Oklahoma wasn't done, though, as Reggie Smith returned a squib kick 55 yards to the Ducks' 27.
With no timeouts the Sooners ran one play, run into the line by Adrian Peterson, then spiked the ball with a second left. Garrett Hartley's 44-yard field-goal attempt wasn't high enough to clear the line and the Ducks celebrated.
Oregon had jumped to an early lead, but Peterson's 17-yard touchdown run early in the fourth quarter put Oklahoma ahead 27-20. Peterson finished with 211 yards on 34 carries, including 145 yards in the fourth quarter.
Dixon completed 26 of 41 passes for 341 yards and two touchdowns. He was intercepted twice. Jonathan Stewart, often compared to Peterson, had 23 carries for 144 yards.
Stewart asserted himself in the battle of the backs first, scoring on a short dash on Oregon's first series before the two sides traded field goals.
Today's crowd of 59,269 is the largest ever to watch a college football game at Autzen Stadium, as well as within the State of Oregon. It also marks Oregon=s 44th consecutive sellout at Autzen StadiumOREGON VS OKLAHOMA - ALL- TIME SCORES
10/4/58 AT OKLAHOMA: Oklahoma 6, Oregon 0
9/17/66 AT OKLAHOMA: Oklahoma 17, Oregon 0
9/23/72 AT OKLAHOMA: Oklahoma 68, Oregon 3
9/13/75 AT OKLAHOMA: Oklahoma 62, Oregon 7
9/18/04 AT OKLAHOMA: Oklahoma 31, Oregon 7
12/29/O4 AT SAN DIEGO : Oklahoma 17, Oregon 14 (Holiday Bowl)
9/16/06 AT OREGON: Oregon 34, Oklahoma 33A day to cherish
!